About Peter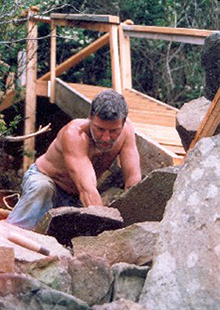 Peter is a unique individual blessed with many talents. It is taking those talents and maximizing them to there full potential, which has been the key to his successes. Peter is a success not only because he can envision what needs to be done, he sees how it will be done and builds, with tremendous creativity, skill and efficiency, always calculating with utmost respect and love for nature.
At the enthusiastic age of twelve, Peter worked by his father's side building everything from homes to docks, learning the value of hard work, commitment and workmanship. As a young adult, Peter owned one of the most successful dock building companies in the Muskokas (Ontario, Canada). Over the years, Peter's talents and his strong desire for challenge have lead into a natural progression, realizing the ever-growing need for water access on a greater scale.
It is risky business, yet Peter has an obvious natural talent for this kind of work. Building with rock, stone and wood for over 35 years he has created a unique style, specializing in water access over steep and rugged terrain.